Drawn by the beauty of the land and Peggy's family history, Jon and Peggy Traver, searched the area in and around Clyde Township in Iowa County's Driftless countryside for the right piece of land for more than a dozen years.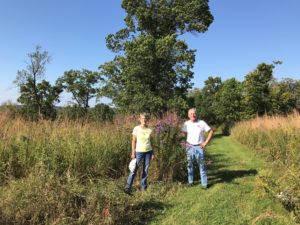 "I grew up a river rat close to the backwaters of the Mississippi in La Crosse, but I've turned into a prairie chicken," says Peggy. Jon and Peggy have both become engrossed with land restoration. Residents of the city of Monona, they work on restoring and maintaining their Iowa County land and also as stewards of 20 acres next to the Aldo Leopold Nature Center in Monona.
Part of the attraction to the 75 acres of wooded and pastured farmland they purchased in several parcels starting in 1984 was a tiny pond-side log cabin built by a farmer who had once owned the land. One summer between the second and third crops of hay, his six children helped him cut and prep the logs for the structure that he built in 1970. That's also when the pond was dug and dammed with funding assistance from the WDNR.
Improving the Pond
The Travers dredged the pond several years after buying their land with hopes to restore life to it. "We dug it out with a dragline, drained it, put the spoils on the other side of the dam, then planted that to prairie," says Jon.
They added a recirculating pump to the pond this fall to aerate it and help control the weeds without the herbicides that could endanger the pond's wealth of amphibians and reptiles.
"Our grandchildren like to fish, so we stocked the pond with sterile largemouth bass and bluegills," says Peggy. "For a couple of years, we all ate the catch. Then I realized I was not hearing any frogs." The introduced largemouth bass were likely the main culprit. "We were able to fish the bluegills out of the pond, but to remove the bass, we worked with Cason in Berlin." Cason provided an integrated management approach.
"Now the fish are gone and the amphibians are back," says Peggy. So are muskrats, otters and birds, like great blue herons, sandhill cranes, cormorants, and kingfishers.
Trial and Error
"We didn't even know the word 'restoration,' when we bought this land," says Jon. "I was in business and didn't know much about the outdoors."
Peggy worked as a naturalist in what is now the Aldo Leopold Nature Center in Monona, which at that time was housed in an old garage. What they learned in their various environmental volunteer work, they applied to their own land. "We started planting prairie right away, and the first year we spent 200 hours removing wild parsnip," says Jon.
"We worked with the Nature Conservancy one New Year's Eve Day at their Spring Green Preserve," remembers Peggy. "We were removing red cedars, and decided to cut ours down."
"Next, we got involved with The Prairie Enthusiasts," says Jon, "and started to really look at the land that we had. Some things we learned the hard way. We cut down about a hundred boxelder trees along the creek bed near the road. But we didn't treat them. The next year we had 800 boxelder trees." Boxelders are known to resprout vigorously from the remaining stump and root system. Jon adds, "When we cut them the second time, we treated them!"
Before the Travers bought their land, there were sheep grazing in the pasture. "It looked like a park," says Jon. "After the farmer took his sheep away, the place exploded into mostly bromegrass and sat fallow for a few years. "We first burned it in March, 1999, and herbicided it to kill the grass. We didn't kill as much as we'd hoped, but we found out that if you seed into the bromegrass, prairie plants will grow."
They planted their prairies in 2000 and 2001, working with Scott Weber of Bluestem Farm near Baraboo. Their goal is to return their land to the pre-settlement plant patterns. Now those prairies fill with shooting star every spring after the burn.
"Don't plant too much tall prairie grass seed," warns Peggy.
"Our prairie looks beautiful till about mid-August," says Jon. "Then all you can see is indiangrass and big blue stem. The indiangrass has spread into our remnant goat prairies. This year we planted wood betony out there, which does suppress grass. We seeded 10 acres to see if we can get control of the tall grass."
Woodland and Savanna Restoration
Much of the Travers' land is wooded and was filled with an all-too-typical mix of invasives when they began. They have transformed many areas with a chain saw and a drip torch. "We started thinning the woods, mainly cutting and burning brush piles. We didn't take out any oak or hickory, but we cut the boxelders.
Their land included a pretty maple grove. "That was hard," says Peggy of cutting maples during the thinning process, to allow much-needed light to penetrate through the canopy for oak regeneration. "Who doesn't like maple syrup? But there would not have been all these maples in pre-settlement times. Now we call it the oak grove."
"We leave standing-dead trees for habitat, and where we have got the woods cleared out, the red-headed woodpeckers are coming back," says Jon. "But if a tree goes down, and you don't clean it up, we've found it turns into an invasive nursery, and getting rid of that tangle of invasives and branches is twice as hard."
Some of their wooded areas have been cleared with the help of Driftless Land Stewardship, which they learned about at a Prairie Enthusiast conference. "He had a forestry mower and followed up with herbicide. That jump-started our savanna. We also took down a lot of aspen. Now there is one big oak that you couldn't even see before," says Jon.
The Travers are always learning as they restore their land, keeping meticulous records of every project in a growing collection of three-ring binders that stand on a shelf beside their library of reference books.
Words to Restore By
Peggy remembers Jon saying once early on, "I can't wait till this is all done," to which she replied, "Honey, it's like housework. It's never done." Today, both Peggy and Jon embrace the ongoing effort needed to enhance and maintain natural lands.
One of the Travers' treasured possessions is a key ring their children gave them on the 25th anniversary of buying the land. It's a quote from Aldo Leopold, "The land ethic reflects a conviction of an individual responsibility for the health of the land."
"Get advice from someone who knows what they are doing," says Jon. "But don't have someone else do it all because you won't have a connection if you don't do some of it yourself. It's Leopold's Land Ethic. These areas are special to us because they have our sweat and blood in them. And there is always more we can do."
Written by Denise Thornton, Driftless Landowner and Environmental Blogger for digginginthedriftless.com.